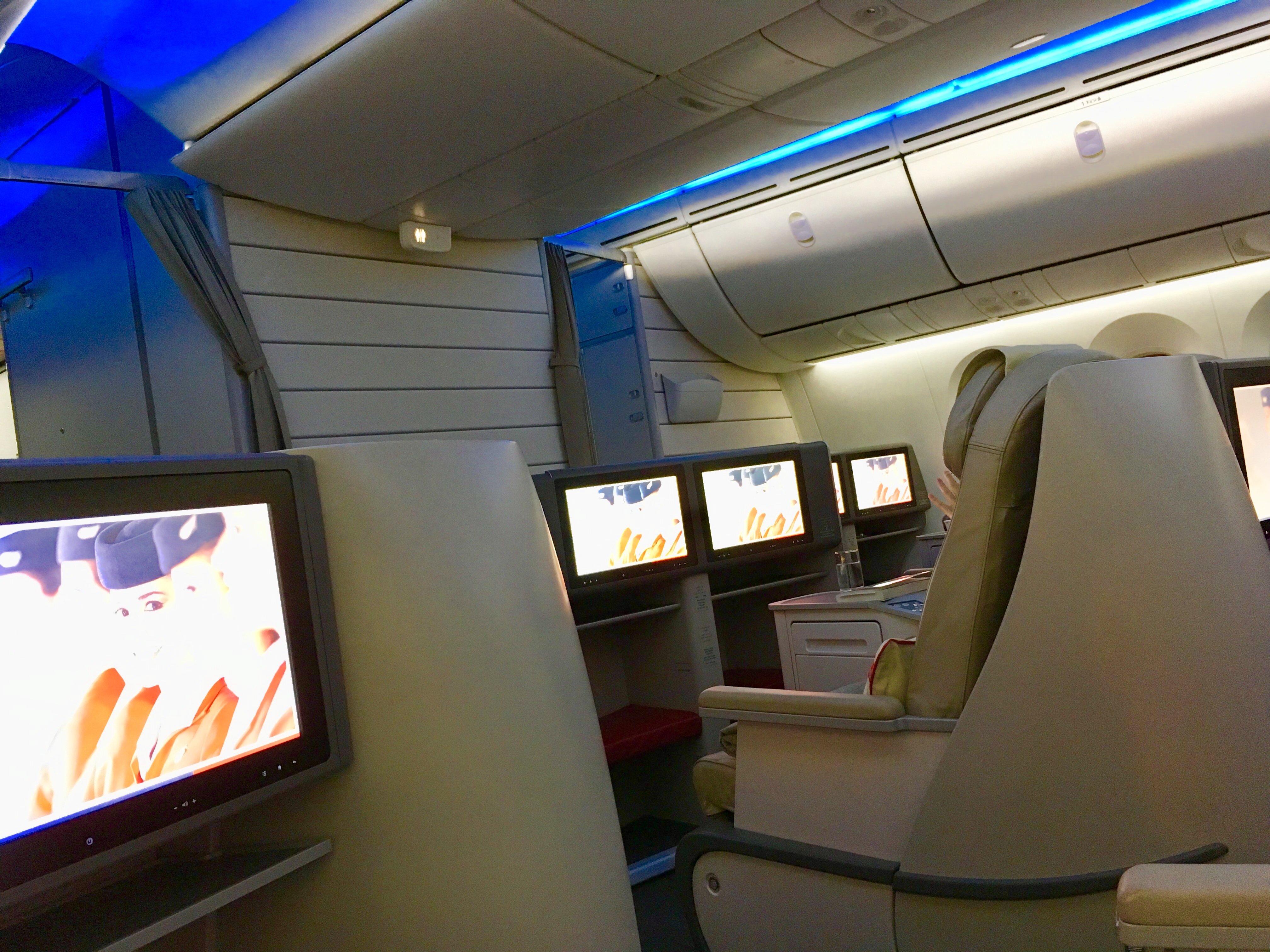 For some reason known only to the smiling woman behind the Royal Jordanian Airlines desk at Hong Kong International Airport, I was ushered into First Class on my late night flight to Bangkok, Thailand.  Looking around at my luxurious, private cubicle with a real pillow and blanket, a seat that flattened into a bed and a large TV screen for movies, I could only pinch myself and wonder "WTF?"
Like a genie, my air hostess appeared, offering me a demi-tasse of dark, Arabian coffee. On the screen in front of my cushy seat was footage of Jordan, done so beautifully I wanted to go there – immediately. After takeoff this angel in a red suit brought me French wine and a "snack" of tea sandwiches: unctuous smoked fish with dill and capaers, roast beef and spicy mustard; a fresh salad and a plate of tiny, delicious pastries. I put my seat into full recline after my snack, snuggled into my blanket and fell asleep while wishing this flight could go on and on.
In Suvarnabhumi Airport in Bangkok my First Class status gave me Priorty treatment and I was hustled through customs in a small, private line and was at baggage claim in minutes. This was where the coach turned back into a pumpkin. My pack arrived on the conveyor belt and I helfted it to my shoulders and then braved the steamy heat of the tropical night and the throngs of travelers looking for their transportation. I exchanged $100. for Thai baht, (33 baht to $1.) on the way, found the shuttle to my hotel and arrived, checked in, and lugged my small but densely loaded,  heavy backpack upstairs to my very generic room. By mid-morning I had slept a little and had had two showers and a cup of instant coffee and the obliging shuttle driver had deposited me at the Sky Rail staion near the airport which I would, hopefully,  figure out how to take into the city.
The Bangkok BTS rail system works well. There are change booths where agents give you exact change for the ticket vending machines when you tell them your destination, the maps and signage are in English as well as Thai and there always seems to be someone to ask you, "Where you go?" with a smile. I would try to say the name of the station I was heading for and this or that kind person would point and give me directions, then search my face for signs of intelligence. Not finding any they would try again, in a gentle way. I'm not yet used to the Thai accent but I had printed out a map of the Bangkok Sky Rail system before I left home and would eventually remember to bring it out and point to my station – Ekamai. This brought on a huge smile and illumination on my part as he or she would follow the map with their finger,  pronounce the names of the stations clearly,  and point the way. Escalaters were everywhere which helped with my load, and trains were announced in both languages and were air conditioned and clean. A handsome young man got up to give me his seat and  I was soon speeding towards the Beyond Bangkok Guesthouse in the Sukhumvit section – part of the "new Bangkok."
Security gates  and guards are part of the picture here too, both in the Sky Rail systems and at entrances to the many large shopping malls. I would invariably set off the alarm passing through the gates with my pack, but would be waved through. One young woman security guard, wearing a purple beret and crimson lipstick, waved me over and indicated that I put my backback on the table and open it. I did and we both stared at the stuffed-to-the-brim contents. This attractive girl looked at the pack and then at me, and said, "Oh Ma-dame!" (pronounced in the French manner). I couldn't tell if she was admonishing me or pitying me. Then she pointed to the bag and then to her cheek, asking me, "Face?" I said, "Yes, face," which caused her to smile  and wave me through. Apparently, if my bag was crammed with cosmetics we were good.
Preaw, the young lady who manages the Airbnb guesthouse I'm staying in, had sent me a dozen photographs (using WhatsApp – a great way to call, text and message while traveling since it uses wifi but no cellular or data on your cell phone) of just how to get from the Ekamai BTS station to the guesthouse, complete with detailed views of what I would pass on my way. After a ten minute walk down a boulevard, a lane and an alley, I arrived hot, sweaty and tired. Preaw welcomed me, showed me how the security system works, gave me a plastic key card to activate it, and showed me to my tiny, very clean, $16. a night room on the third floor. She showed me the kitchen and common rooms, told me the breakfast hours, turned on the AC and asked if she could bring me a cup of iced Thai tea. Yes! I had arrived.
Photos of the Siam Paragon Mall – one of four, huge, gorgeous, shopping and eating venues in downtown Bangkok.