I haven't posted in a while due to (1) total immersion in family (more on this soon) and then (2) getting sick with bronchial infection. Now family and cough are gone and I'm on my own again in Luang Prabang. Internet service is frustratingly slow everywhere I try to use it, so I'm  writing in a notebook and adding to online blog when possible.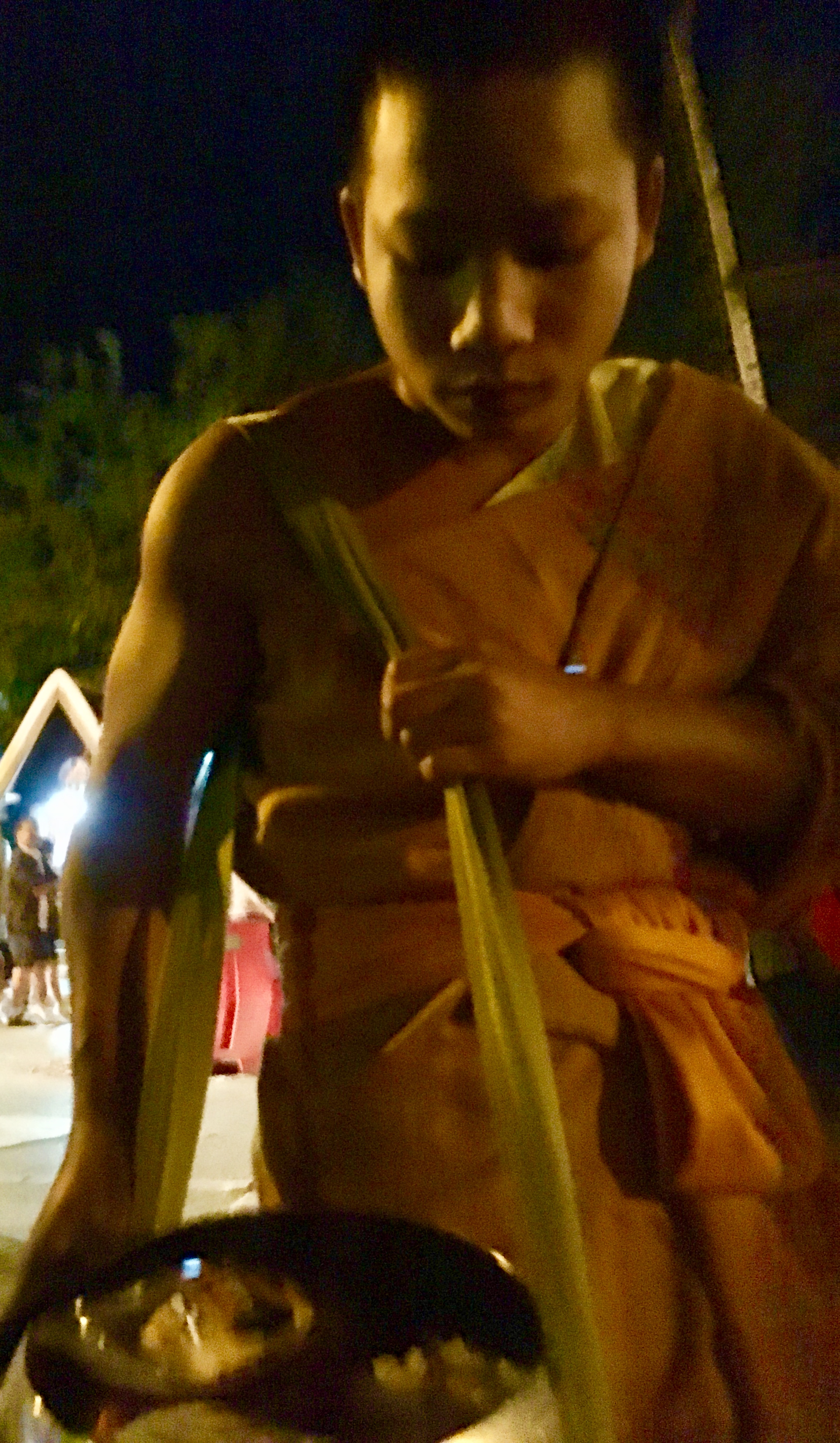 This laid-back town in northern Laos was the perfect place to be sick. My sister Anne and I both flew here from Hanoi after parting from sister Helen and partner Doug following a great time together in Hanoi and Ha Long Bay. We settled down in a beautiful room on the second floor of the Riverside Lodge. Glass doors opened onto large, private balcony with views across the Mekong; a comfy king bed, hardwood floors and furniture, coved cedar ceilings,  a perfect tub set up high enough for river views while bathing, plus a sweet staff and good breakfasts made our week pleasant in spite of hacking coughs, intermittent fevers and low energy. LP is the easiest place I've been in SEA. Wrap-around rivers hold it tight. Turn a corner and yet another charming neighborhood is revealed with Indochine villas, gilded wats, tiny boutiques, spas, cafes and street markets. Tropical flowers tumble down the hillsides, Buddhist monks in tangerine robes splash color onto the streets, gigantic Staghorn ferns sprout from tree trunks and fruits I don't know the names of spill from luxuriant limbs. Good food, from fancy French to local Lao, from street stalls to white tablecloth restaurants,  is plentiful and very affordable. Smiling young women at smoothie stands make fresh, tropical fruit concoctions; hot buttery crepes, coconut waffles and crispy baguettes tempt passersby. Mekong whiskey, smooth and mild, costs less than beer. The Night Market sets up at dusk with vendors selling colorful crafts and hand embroidered Lao clothing on woven mats under temporary tents and cheerfully painted tuk-tuks wait nearby to take you wherever you don't want to walk.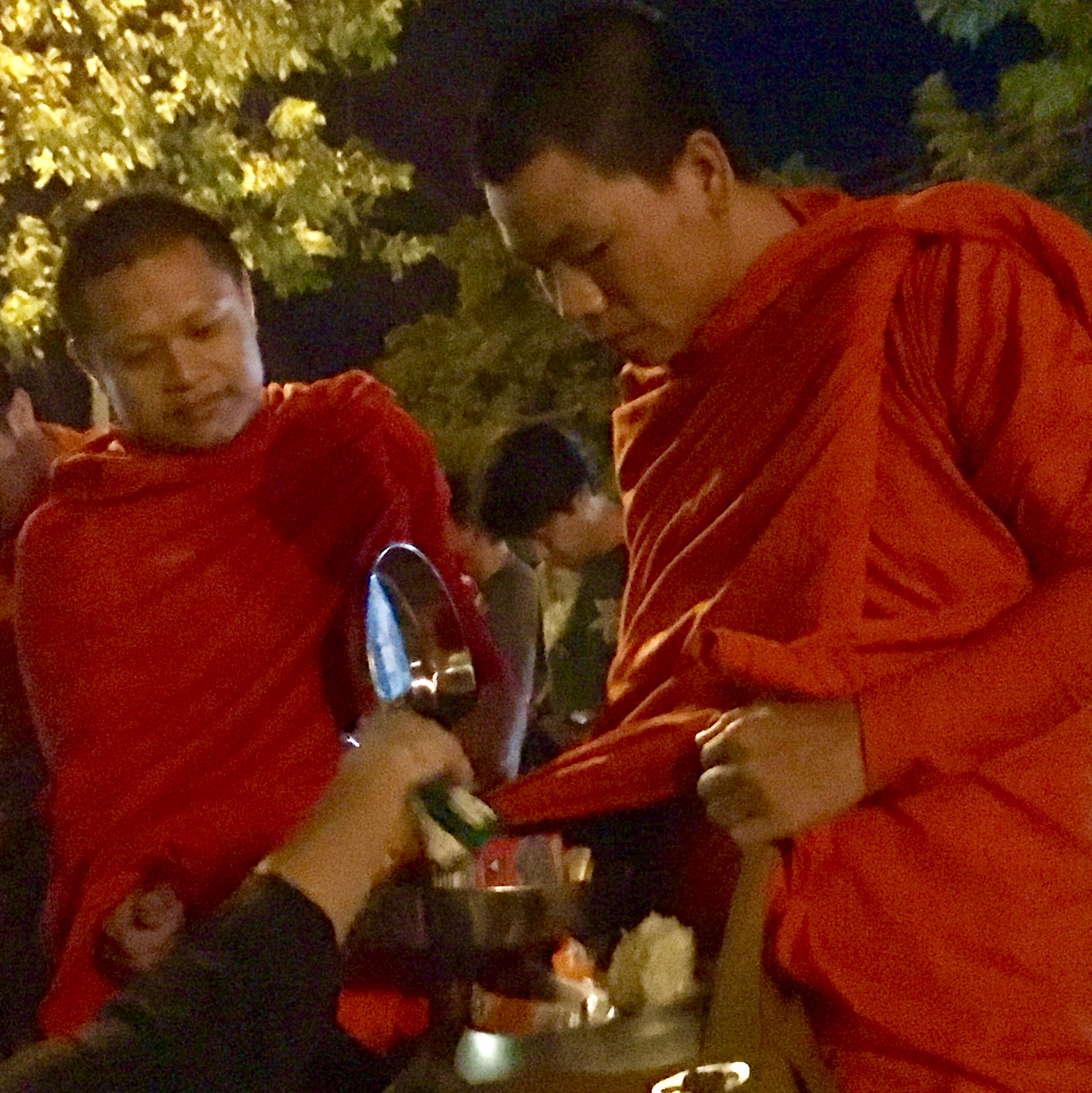 For the first few days, aside from getting up before dawn one day to watch the silent, flame-colored monks receive alms of sticky rice, we only left the room to find food or totter along the riverfront to watch the Mekong slide by. When our coughs finally began to subside we went to Ock Pop Tok – a textile cooperative outside of town. Hillary, a young woman friend of Anne's son Ezra, lives and works there and she met us for lunch, sharing her knowledge of the town and the culture and also introduced us to a friend of hers who had just recovered from what we were dealing with who kindly gave us a list of helpful drugs, all available nearby from the English-speaking pharmacist.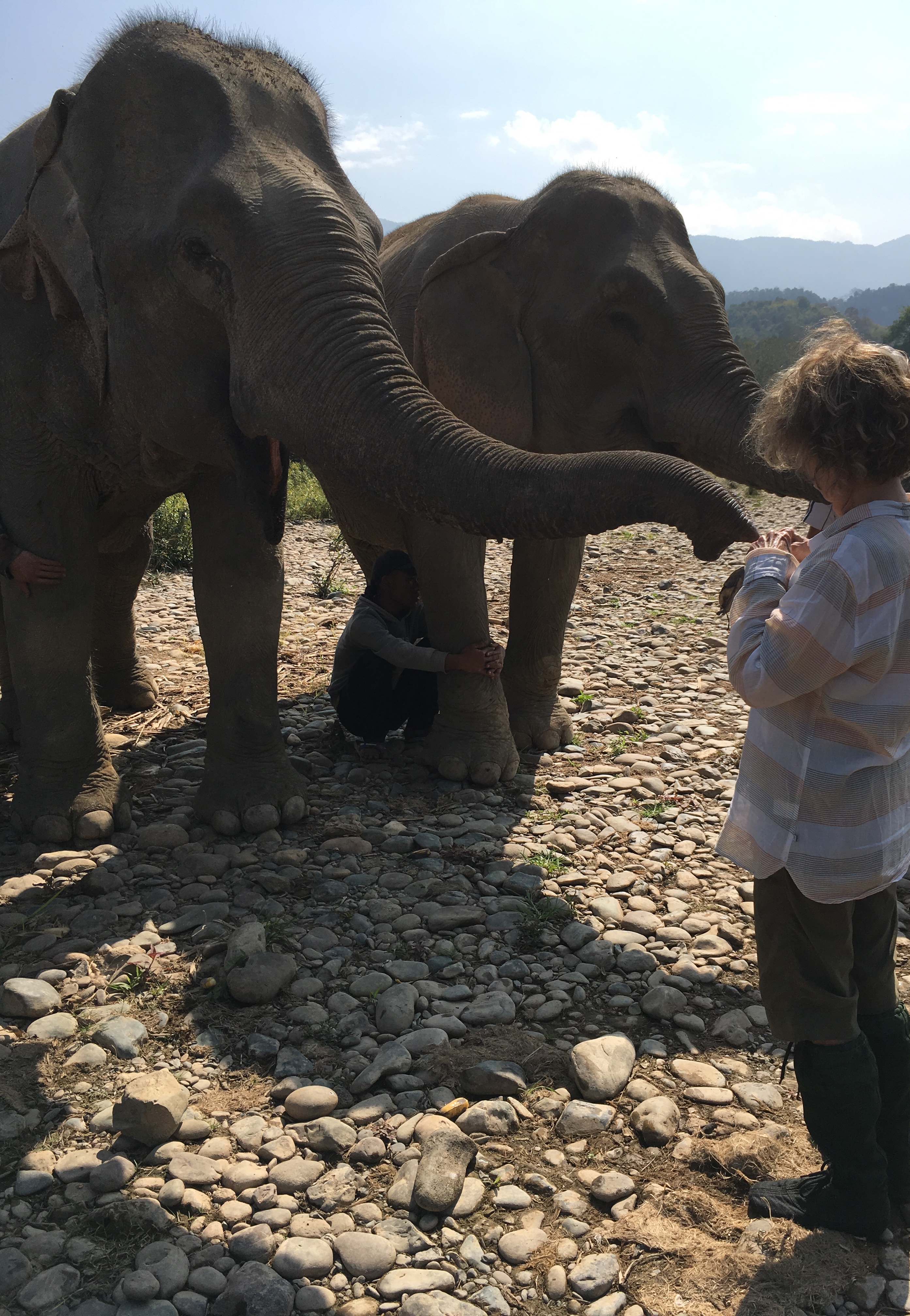 As we improved, Anne and I ventured further afield, spending an idyllic day with rescued Asian elephants at the Mandalao Elephant Sanctuary (also recommended by Hillary) learning about these thrilling creatures from scientists and mahouts – giving them bucket showers in the Khan River, feeding them bananas and sugar cane, petting them, admiring Baby Kit, and walking with them for several hours along shady forest trails. This excellent company was started by a couple of young men from Colorado a little over a year ago as an antidote to the other businesses that sponser elephant rides and practices that cause pain and suffering to these gentle giants. Who knew that elephant testes are high up in their backs? No dangling participles on these fellows. Riding on elephant chairs damages them. We saw scars, lumps and marks on the backs of these beauties, rescued from tourist and logging businesses, and now set free to live out the rest of their lives in this paradise with all the good food they can eat,  no sticks or hooks used in their care, only food incentives and voice commands from the mahouts who attend them. This conservation center is doing an amazing job of educating the local Lao people, the school children and the farmers about the benefits of having elephants in the 'hood, as well as compensating the farmers to grow the massive amounts of organic fruits and vegetables used to feed them. Laos, once known as Land of One Million Elephants, is now home to around 1000. Poaching, theft of the babies, ill-treatment and abuse, wars and poverty have taken a terrible toll on the elephant population and it was wonderful to see such a compassionate, positive and progressive place after previously only seeing elephants enslaved and at work.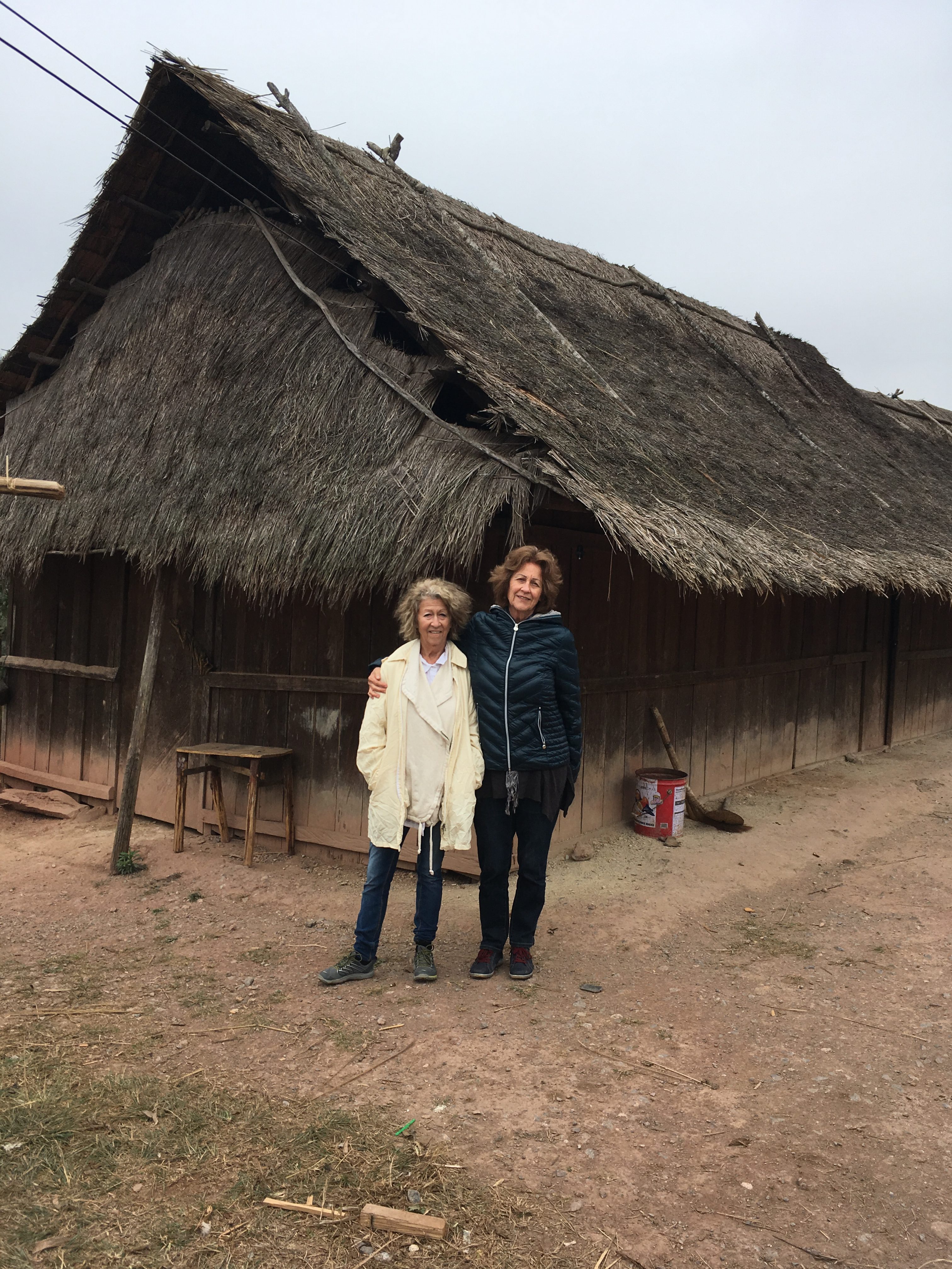 The following day we were picked up in a new van by Mr. Sai (recommended by our Mahout Guide Keum) and driven over range after range of mountains to Phonsavan and the Plain of Jars. Along the way we stopped in several of the mountain villages to walk through the markets and eat freshly made cream-filled donuts and a tasty, crisp, white-fleshed river fish that had been stuffed with herbs, chilis and salt and grilled over coals. The villages were perched high on the spines of mountains and the day we were there were cocooned in mist. Peopled by a variety of hill tribes, the women wore distinctive, colorful head gear and hand embroidered ethnic skirts. There was an other-worldly feel to this high country, appearing and then disappearing into the fog, and the jewel-toned head gear looked fabulously bright against the dark green mountains. Hmong houses of unpainted boards and steep, coconut palm roofs were strung along the highway wherever there was a piece of flat land to put them on – and small, latice-walled, thatched roofed huts were cantilevered over precipeces with drop-offs to hundreds of feet below. Someday I want to travel to northern Laos and see more of this gorgeous place and these beautiful people, but soon I'm heading back to Thailand to spend my last few weeks where the weather suits my clothes.
These days I am awash in memories of Alec, who was my first Big Trip companion. So much that I see reminds me of places we went together, things we saw, times we shared.
We met in high school when we were fifteen, married at twenty-three and set off in a VW bus (that Alec converted to a custom camper) on a six month trip from Santa Monica down the peninsula of Baja California and around Mexico. This was in the 1960's and there was no road down Baja then and just one, devilishly confusing map – just sand tracks that led off in all directions or rocky, rutted trails over steep mountains. Traveling with two friends, Ralph and Rick – also in a VW Van – we had the place almost to ourselves. Bahia Concepcion was completely empty. San Ignacio was a village where dates dried in the sun and dogs lay in the middle of the road. We seldom got the vehicles out of first gear, were thrilled when we could "race" along in second. Occasionally a woman in a palm-thatched palapa would sell us a dozen eggs or a newspaper wrapped stack of tortillas, but mostly we ate fish we caught and packaged or canned goods. In Mulege we traded our old scooter for a week of lobster dinners in the kitchen of an enterprising couple. When the new owner asked how to stop the scooter, the brakes were gone, Alec told him, "run into a dog!"
It took us a month to get to La Paz, every day sun drenched and sea soaked, nights made up of stars and bonfires of the lit skeletons of boojum trees and quiet floats in phosphoscent water, mornings spent fishing for corvina in waves tinted by crimson dawns.
We took the ferry from La Paz to Puerta Vallarta ( a sleepy village then) and explored much of Mexico, going as far south as the road would take us – ending in the jungles of Quintana Roo where "chic-leros" were hacking down vines and trees with machetes and setting dynamite charges to continue the road south. Cancun was in the distant future and the road now goes as far as the Darien Gap in Panama where it's stopped by the still impenetrable jungle.
Traveling north from the Yucatan we got to the US border in Brownsville, Texas six months after we'd left home.
Circumnavigating the southern border of the US we drove to New York where we lived for a year on the lower east side, leaving once to hitchhike to California and across the trans-Canadian highway from west to east. After NY we lived in a little cabin in the redwoods near Occidental, CA, while Alec made silk-screen prints and hawked them in the streets of San Francisco. Leaving there in the spring we met up with Ralph again who had been working with Yvon Chouinard experimenting on making rock climbing gear in his mother's garage in the San Fernando Valley. In the Tetons, Ralph and Alec worked construction and tried out this new-fangled climbing gear while I served food and drinks at the Cowboy Bar in Jackson Hole, Wyoming. When winter came we took our savings and went to Europe, bicycling from Paris to the south of Spain and camping for a month on the Gold Coast near Almeria before buying a Bultaco motorcycle (I was pregnant with Oban by then) to ride through Morocco.
Alec died two weeks ago. There isn't a day here in SEA that I don't think of our time together, of everything I learned from and with him on those magical mystery tours of our youth. To me he seemed completely fearless, incredibly strong and accomplished. He was insatiably curious, could and would talk to anyone, say anything, ask anything, go anywhere. He taught me to be a braver person and our travels instilled in me an enduring trust in the basic goodness of humanity.
One day, in particular, stands out in my memory. It was our second day in Tangiers…..   We were staying deep in the casbah in a two-durham-a-night (.50) hotel room – the Bultaco parked by the bed. The first day we'd been accosted by hustlers all day and were conned into paying for an expensive dinner ($6.) with a couscous feast and a belly dance performance by a dancer of uncertain gender. Regrouping in the room the next afternoon, we talked about leaving Morocco and returning to the ease of Europe. I was experiencing morning sickness and unsure about the rigors of traveling on to Marrakech.  "Let's get back out there," Alec said. "There's so much more to see." And we did. After wandering the crowded, fascinating warren of lanes for hours, we stopped in a smoky, local shish-ke-bob place deep in the covered confines of the old casbah where we met a young man who befriended us and took us even deeper into that exotic world. We visited rooms of whirling dervishes, rooms with djellaba-wearing men playing music on ouds and rababs and kamenjahs, climbed stairs to visit hashish dens and sipped glasses of sweet mint tea in several cafes. And so much more.  As the sky was beginning to lighten in the east, our young friend led us back to our hotel and hugged us "goodbye." Alec asked him as we were parting: "Why were we left alone today when yesterday we were hustled?" Our friend said, "We see you. Some people know how to walk and some people don't. You know."
Alec knew how to walk.